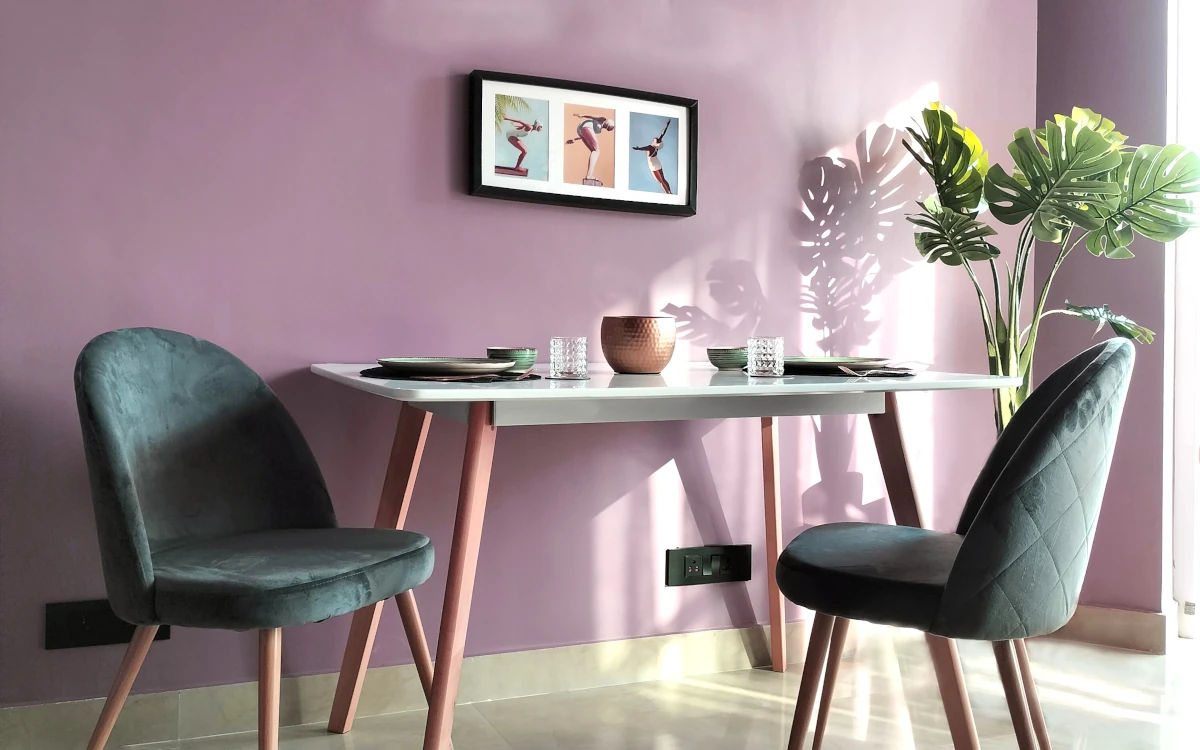 A feeling of home – welcome to Xanadoo
Our beautiful home awaits you for a relaxing, comfortable stay. Lovingly furnished, the renovated apartment offers everything you would not want to miss at home. The apartment is located in the popular Ruby Residency in Chaudi with 24/7 security and a pleasant neighborhood.
The famous Palolem beach is just a few minutes away – the village of Chaudi you can reach by feet easily. The Xanadoo apartment is an ideal starting point to discover Goa – I am happy to be your host.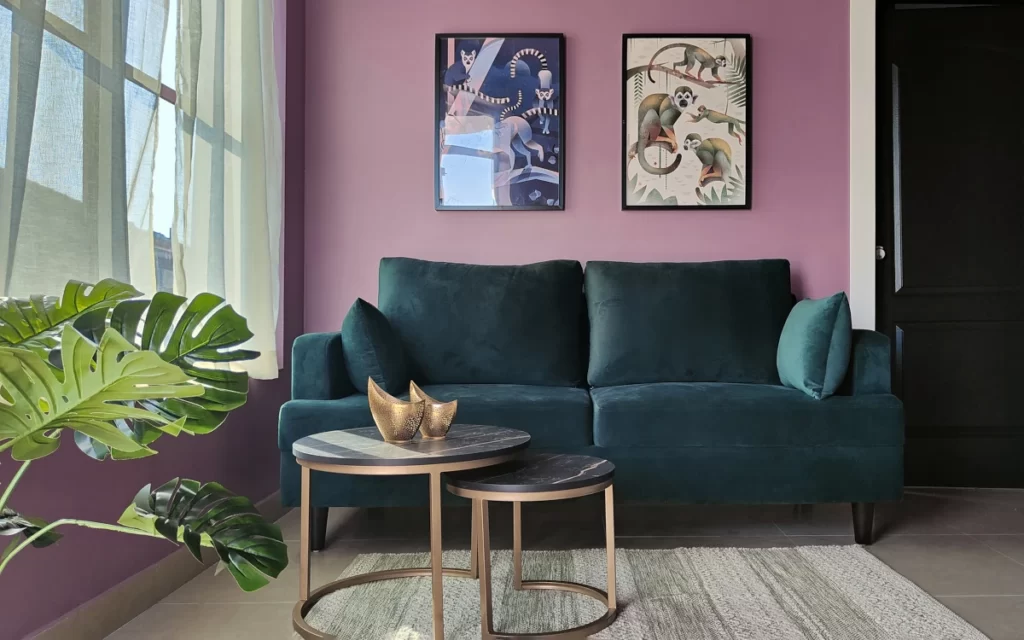 Enjoy European comfort on 64m2 – Price starting from ₹ 12,900 / 3 Nights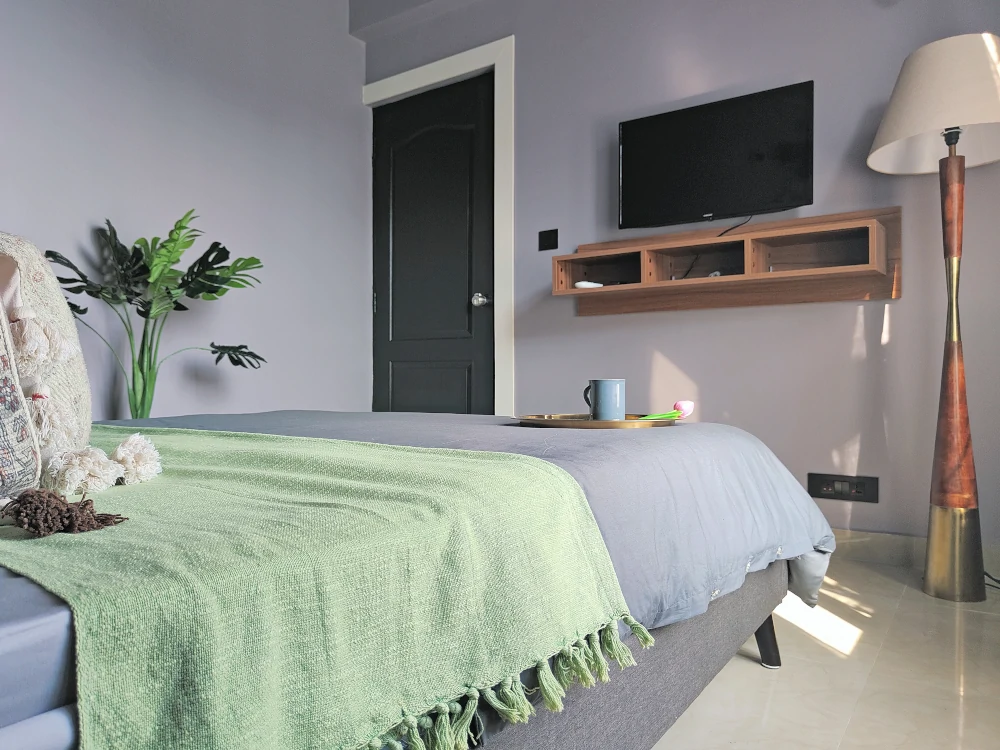 The stylish apartment has been completely renovated and is very well maintained and lovingly furnished upholding European standards. In the separate living/sleeping area, you have enough space for your belongings. The apartment has a power back up system up to 8 hours.
AC

Wifi
Smart TV

Kitchen

Balcony
Parking



Living room
In the spacious living-dining area, with ceiling fan and modern lighting, a velvet sofa invites you to rest and the dining table can also be used for work.
Balcony
From the living room you have direct access to the airy balcony, which is large enough to eat outside, and has a table and 2 chairs.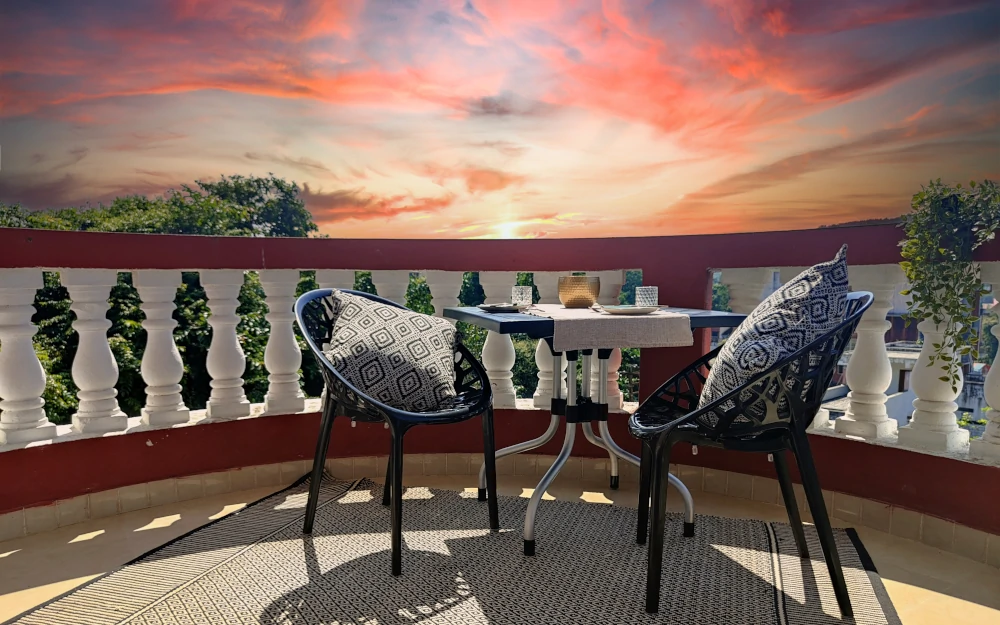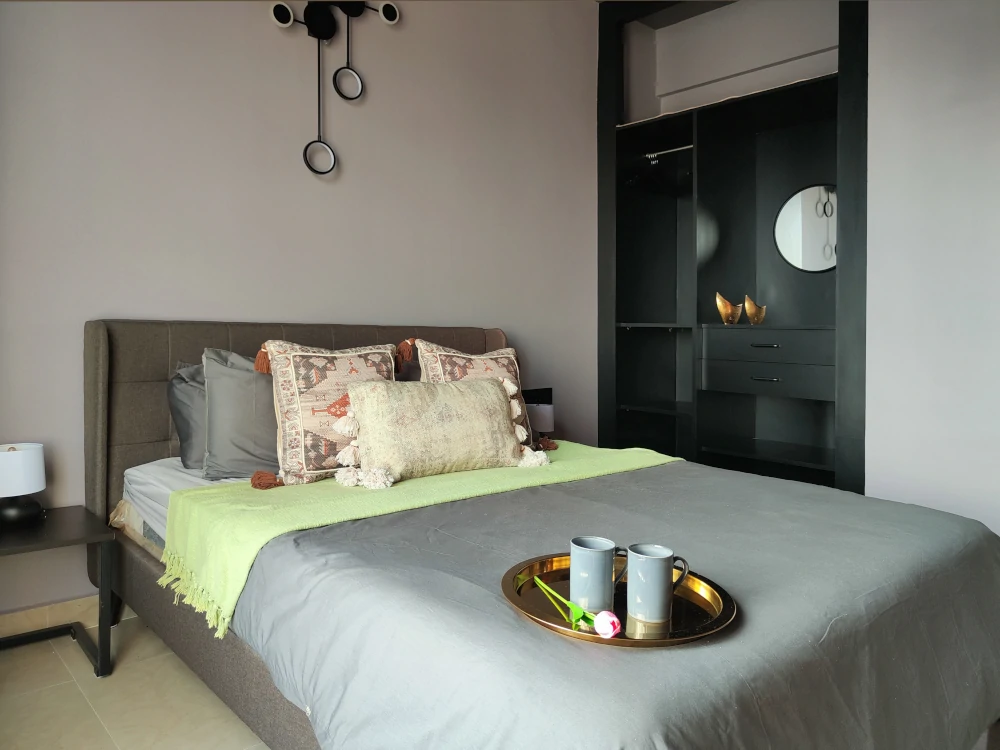 Bedroom
The bedroom contains a modern queen size bed with extra thick mattress, high quality bedding and fluffy pillows and blankets. There are blackout night curtains, an open fitted wardrobe with hangers, and smart TV. AC is available in the bedroom as well as a ceiling fan.
In the well-equipped fitted kitchen, you can prepare your meals easily. The modular kitchen in black design has LED lighting and all the necessities (water filter, small fridge, induction hot-plate, mini-oven, kettle, pans, crockery and cutlery, glasses and cups and much more).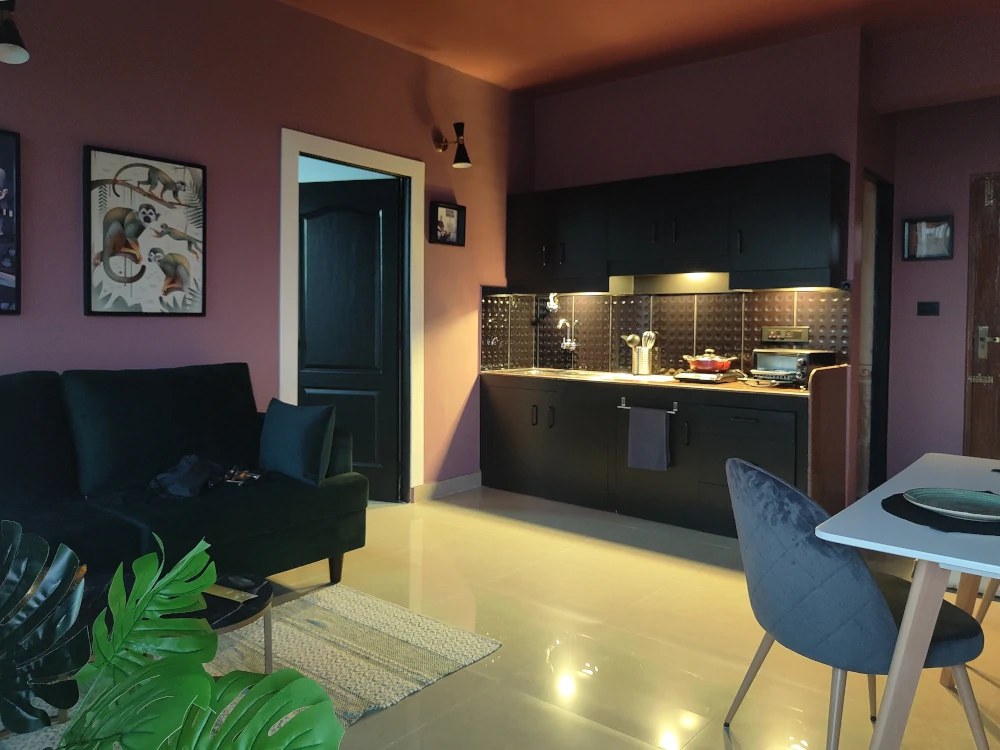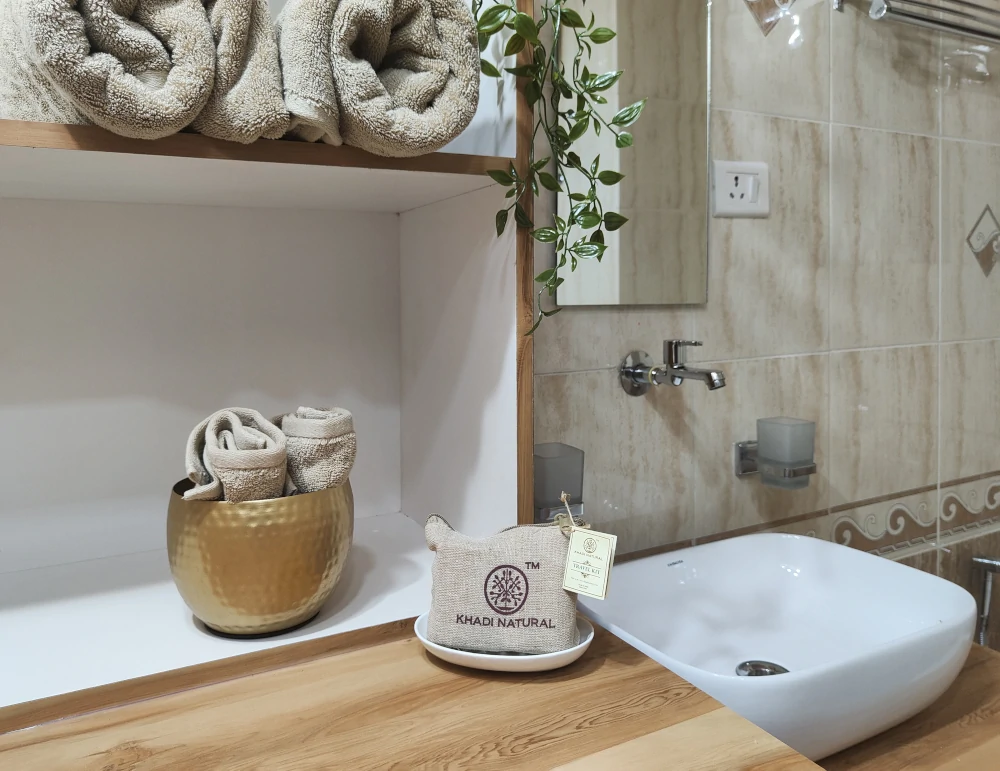 Bathroom
The bathroom has hot water, enough storage space and plenty of light. A washing machine is available for our guests.
Xanadoo Apartment offers you the best possible standard for a pleasant stay.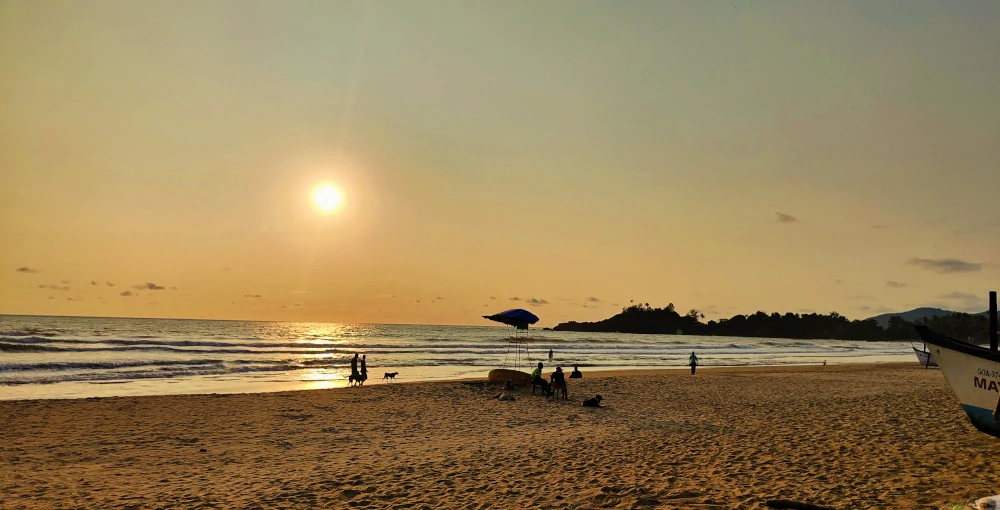 2 wonderful weeks in Goa
Andrea is a competent and helpful host.
Her apartment is lovingly furnished, everything very clean, super comfortable bed. You can feel the "Swiss cleanliness". Everything worked perfect.
We will be back next year!
—Greg & Julie, New Jersey USA
We had been searching for a space in Goa, 'we can call our home' for our limited stay here; and stumbled upon this gorgeous home of Andrea.
—Dilip
The apartment actually looks like the photos! After 6 weeks of travel through India, we have enjoyed the last days here. Totally recommended!
—Noa, Haifa
What an amazing apartment!
I stayed a couple days at Andrea's beautiful place and had the best time! The apartment is super chic and all brand-new, the bed super comfortable, very beautiful livingroom and has all comfort to offer! I enjoyed the secure location and the short walking distance into Chaudi center, beautiful overlook on the balcony also! I can highly recommend and will go back there on my next visit for sure!
—Jacqueline, Switzerland